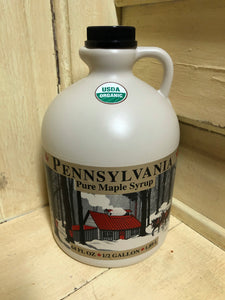 1 Half Gallon Certified Organic Pure Pennsylvania Maple Syrup. Choose grade in options.

Our BPA Free, FDA Approved plastic jugs filled with your choice of Golden Delicate Maple Syrup; Amber Rich Maple Syrup; or Dark Robust Maple Syrup.


Grade A Golden, Delicate Taste This maple syrup is a lighter and milder maple syrup that is delicate in taste and lighter in color. Golden Maple Syrup is typically processed at the beginning of every sugaring season during colder days and contains a delicately sweet, original maple flavor characteristic.

Grade A Amber, Rich Taste Maple Syrup is traditionally the most popular of all syrup grades among consumers. It's full-bodied in consistency, contains a rich maple flavor that is more pronounced than A Golden, Delicate Taste


Grade A Dark Color, Robust Taste Maple Syrup, Its unique and subtle flavor is most often used for table syrup: As the days become warmer and longer in sugaring season, we produce this full-bodied maple syrup grade. Both the color and the maple flavor are a bit stronger and more intense than the Amber, Rich.


Refrigerate after opening for best storage. Prior to opening, keep in a cool place and out of high temps and sunlight. You can also store in your freezer for long term storage and just pour out some delicious maple syrup into a smaller container you keep in your fridge to keep it fresh and long lasting.